Sea Lion Encounter
20 min
Ages 6+
Admissions Lobby. Come to Lobby at least 15 minutes prior to program start time.
Get up close and personal with our charismatic pinnipeds.
In our exclusive small-group session you'll come within-a-whisker of our sea lion star, while learning about this dynamic species and current conservation challenges. A souvenir digital photo of your close encounter is included.
---
About This Encounter
This program meets at Admissions Lobby. Come to Lobby at least 15 minutes prior to program start time.
View park map
20 minutes
All participants must be age 6 and over.
Child Age 6-7 years: Must attend with one non-paid adult (18+) chaperone. Chaperone and child must be in photo together (Adult stands closest to sea lion). 1:1 ratio child to adult.
Child Age 8-14 years: Must attend with one paid adult (18+) chaperone. Max of 3 children to 1 chaperone. (Photo can be child only, or child + adult)
Age 15+: Paid participants only.
Your up-close animal experience will be captured by our Encounter Host. Two digital photos per ticket holder will be emailed to program purchaser (24-48 hours after session).
There are lots of fun ways to pose alongside our sea lion celebrity!
Allergy Alert: Please be aware that animals are fed fish and shellfish during this encounter. Notify our staff in advance if you have a related allergy.
Participants will come into contact with saltwater and may get wet during the encounter.
Program is limited to paid participants and specific chaperones only. Other family or friends or children are not permitted at the program.
Plan plenty of time for arrival to the Aquarium! In June, July and August, be sure to plan to arrive to the park at least 1-2 hours prior to program start time, for programs beginning after 11am. Programs are limited capacity and we cannot reschedule or refund guests that do not show up in time for their reservation.
ACCESSIBILITY: Contact us in advance if someone in your reservation needs assistance or accommodations for accessibility, so we can help provide the best Wild Encounter experience. Program area includes some stairs and step-up. Adjustments for wheelchair accessibility can be made with advance planning. Please email at least 2 days prior to vipexperiences@wcs.org
*This ticket is for the program ONLY and does not serve as admission into the aquarium. Must have a valid WCS Membership or separate admission ticket in order to enter the New York Aquarium. Tickets or Membership can be purchased in advance online.
Be sure to adhere to the age restrictions and chaperone policies. Due to limited capacity, tickets are final sale and errors based on age requirements will not be refunded.
---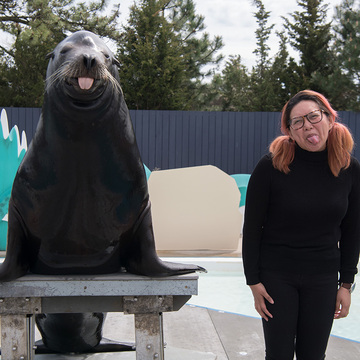 ---
MEMBER DISCOUNT AVAILABLE
Use promotion code MEMBERVIP at checkout for 10% off. Must present valid Membership card at program check-in.
Promotion code must be entered at the time of checkout for discount. Cannot be combined with any other discount or promotion. Not applicable towards prior purchases.
---
For questions or assistance, contact us at vipexperiences@wcs.org.