OCTOBER 21-22, 28-29
11AM - 4PM
SPOOKTACULAR SEASIDE FUN
Halloween fun awaits your family at the New York Aquarium this fall! Join us for marine-themed magic shows, Halloween crafts, a larger than life pumpkin display, Wildlife Theater shows, games, and more. Come make some spooky seasonal memories with fun activities for all ages in the company of incredible marine animals.
The Ascarium experience and activities are included with New York Aquarium admission.
NOT-SO SPOOKY CREATURES
Visit some amazing aquatic animals - including piranhas, wolf eels, blood sea stars, spider crabs, and others - and learn why they're not as "spooky" as you might think.
HALLOWEEN,
NEW YORK AQUARIUM-STYLE
All activities take place on the Plaza.
Decorate your own aquatic headband and wear it to the Costume Parade!
11AM - 4PM
Enjoy aquatic-inspired magic, sure to entertain the entire family.
12:20PM, 2:20PM, 3:20PM
Delight in amazing costumed entertainment by our stilt walkers and aquatic puppets. Join in the fun and make sure you're showing off your Halloween best!
12PM, 1PM, 2PM
Strike a pose with our larger than life Giant Pacific Octopus, carved entirely out of foam pumpkins!
Learn more about why some creatures aren't as "spooky" as you might think. Visit piranhas, wolf eels, blood sea stars, spider crabs, and more throughout the aquarium to join this self-guided scavenger hunt!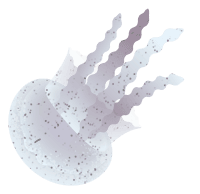 Augusta C. Lion's Carnival of Aquatic Anomalies
A new carnival is passing through Coney Island this October! Full of oddities and anomalies, challenge your misconceptions about misunderstood and mysterious aquatic creatures.
Wildlife Theater
Come one! Come All! ...to see the strange, the mysterious, and the mesmerizing. Puppet creatures of the sea will amaze you in this musical.
11:45AM, 12:45PM, 2:45PM
Carnival Games
Learn and play while you bust myths about "spooky" species and more.
11AM - 4PM